CAREER OPPORTUNITIES
Faysal Bank Jobs 2023 Internship Opportunity Internship opportunity at Faysal bank
Job Description
IMPORTANT INSTRUCTIONS & HOW TO APPLY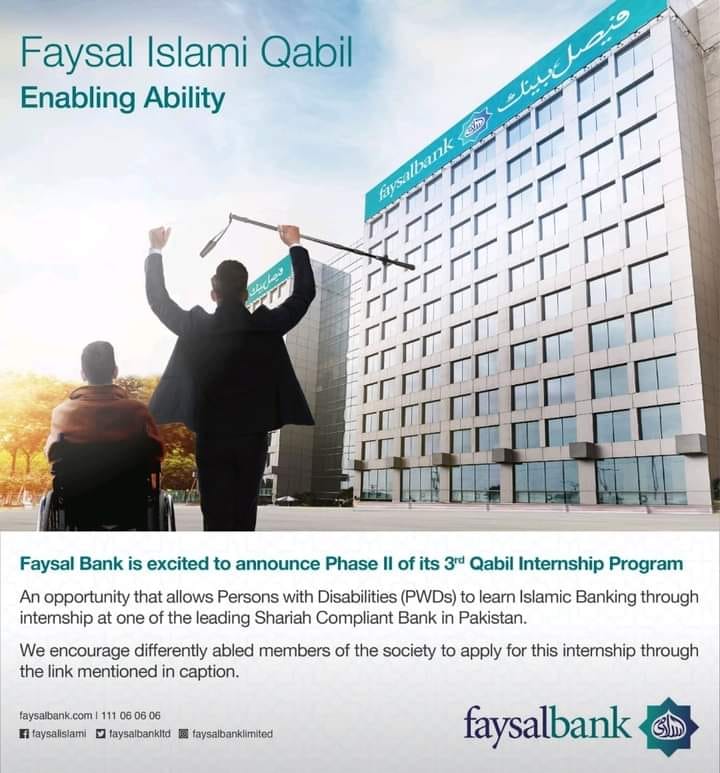 Internship opportunity at Faysal Bank
Job Description
This internship program is specifically designed only for "Persons-with-Disability" to provide them opportunities to:
Experience the working environment of a bank
Learn about the skills required to work in a bank
Develop themselves for career growth
Know about the latest trends in the banking industry
The program may or may not lead to permanent employment with the bank (terms & conditions apply).
Placement & Mentorship
Selected applicants will be placed in different departments of the bank. Proper amenities are available as per the PWD policy requirements. The dedicated mentor will be assigned to guide the interns throughout the program.
Internship duration: 6 weeks
Eligibility Criteria
Under-Graduate / Graduate / Post Graduate from HEC Recognized Universities
Faysal Bank is an equal-opportunity employer. Female candidates who are differently abled are encouraged to apply.
Required Skills
Quick Learner, Highly Ambitious, Interpersonal Skills,
Graduate or Graduate or Post Graduate from HEC-Recognized University
Minimum Experience
Fresh
Last Date 29th Sep 2023
Interested Students visit the link to apply