CAREER OPPORTUNITIES
PIA Jobs 2023 Online Apply announced in Islamabad for the post of Chief Executive Officer (CEO) – PIACL through an online job portal https://www.piac.com.pk/
VACANT POSITIONS
Cabin Crew
ATR Captain
Manager Cyber Security
Manager IT Hardware Workshop
Assistant Manager Network
ERP Functional Expert
ERP Techno Functional
Oracle Infrastructure System Expert
Power BI Developer
Software Developer
System Administrator
IMPORTANT INSTRUCTIONS & HOW TO APPLY
Interested candidates must review the detailed application criteria and process available at www.piac.com.pk.
Application processing fee Rs. 2000/-, will be deposited in below mentioned bank account or via bank transfer in favor of PIACL vide Bank Account HBL-CSCPIA PKR-0048-00179605-03.
Proof of the payment must be attached with the Application Form and Transaction Reference Number to be entered in the last column.
Application Form The Application Form along with photocopies of Matric, Other Qualification Certificates & Experience Letters, Domicile National Identity Card, and passport size Photographs with white background, must be sent through reputed Courier Services. The application should reach in the office of MANAGER RECRUITMENT & PLACEMENT PIA, NEAR PIA TRAINING CENTRE, KARACHI AIRPORT, POSTAL CODE: 75200, Contact No. 021-99043562/021-99044295.
Applicant must clearly mention the position applied for on the Application Form and must attach all required documents mentioned in Para.
In case of an incomplete Application Form or any of the requisite documents are missing the application will not be considered/entertained.
No by-hand application will be accepted.
However, Applications received through email along with all requisite documents and information shall also be accepted, subject to receiving the same as a hard copy through surface mail within the due date.
Candidates found using external influence or giving wrong information, even if the same is revealed at a later stage. will be considered disqualified.
Applications received after the due date will not be considered/entertained. wi No TA/DA will be admissible for the Test and/or interview.
In case, any educational documents/domicile or any other relevant document as found fake/bogus/tempered at any stage of service, the services will be stand terminated and criminal proceedings will also be initiated as per the law of the land.
Government Servants/employees of autonomous bodies including PIA employees will be required to submit, NOC from their current employer while submitting the application.
PIA reserves the right to cancel the partial or whole recruitment process at any stage.
Last date to apply for PIA Jobs is 25th September 2023.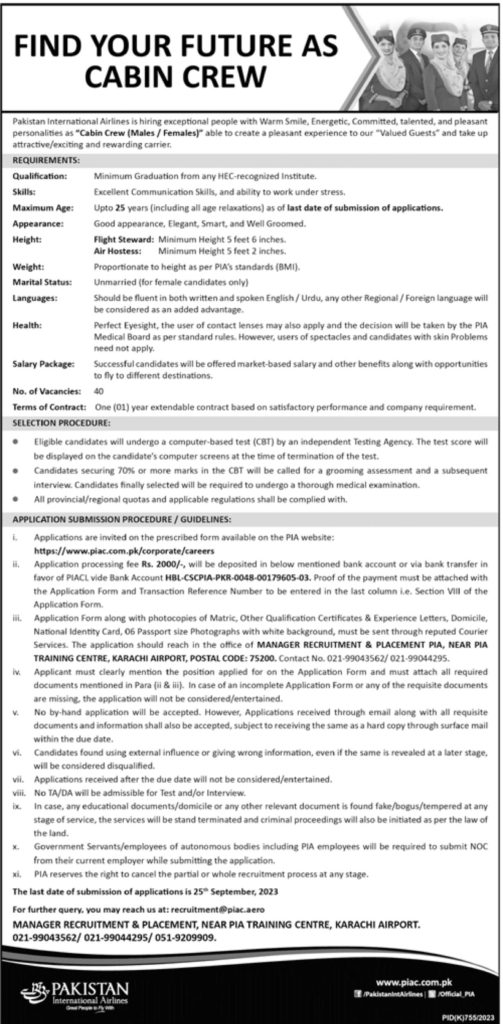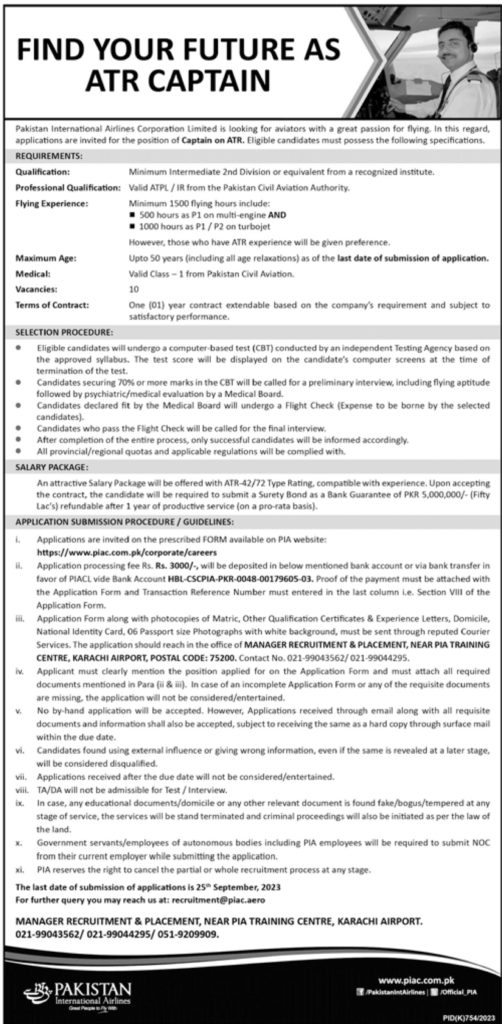 Pakistan International Airlines PIA Jobs 2023 announced in Islamabad for the post of Chief Executive Officer (CEO) – PIACL through an online job portal https://www.piac.com.pk/. PIA is an equal opportunities employer and aims to ensure that no job applicant or employee receives unfavorable treatment on the grounds of gender, race, color, ethnic origin, religion, or disability. All appointments are made on the basis of merit. Pakistan International Airlines Company Limited (PIACL) invites applications for the position of Chief Executive Officer. PIACL is determined to re-structure itself as a dynamic modern and successful national airline of Pakistan. It seeks a professional, motivated and capable individual who will provide the 'can do' leadership necessary to bring PIACL back in the league of successful national flag carriers.